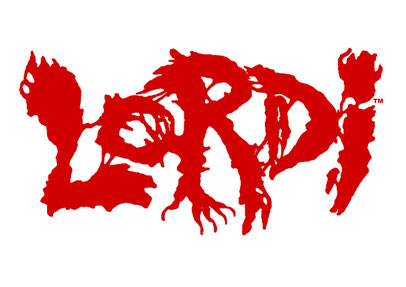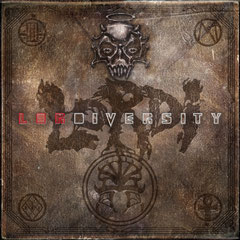 01/05/2022
Lordiversity
AFM / BERTUS / SUBURBAN
I have really taken my time for doing this review because reviewing 7 albums of a same artist isn't what I'm used to.
You read it good, 7 albums of the same artist released at the same time physically (as a box containing all albums) and individually at a different time digitally.
When I read that Lordi would release 7 albums, I didn't believe it and must get confirmation that it was true. The previous album of Lordi named "Killection" was a fictional compilation album with songs that Lordi would have written from the 70's until 2019. The album came out out on January 31st 2020. The band was touring for it when a certain virus, we all know way too much, came in our lives and made them cancel the last half of their tour. Since then they got too much free time and just decided to fill it on a good way. Big up to their label for following them in that.
"Lordiversity" is the name of the box containing all the 7 albums and it got released on November 26th 2021. They're the successors of "Killection". Understand there that when Killection varies the styles and each song had a different fictional era, "Lordiversity" keep the same styles, the same timeline but done one album by era. You can also find some songs of "Killection" back in "Lordiversity" but they are well remixed. I didn't listen to "Killection" for more than a year, what gave me the occasion to discover "Lordiversity" like it was brand new. As much my opinion about some songs didn't change, as much for one it changed but literally on my big surprise. I may love or dislike but for all I can say that they did an amazing work
Now let's see every album in order of digital release.
Released on November 26th 2021 and contains the following songs :
SCG Minus 6 : Delightful Pop-Ins
Macho Freak
Believe Me
Spooky Jive
City Of The Broken Hearted
Bella From Hell
Cast Out From Heaven
Gonna Do It (Or Do It And Cry)
Zombimbo
Cinder Ghost Choir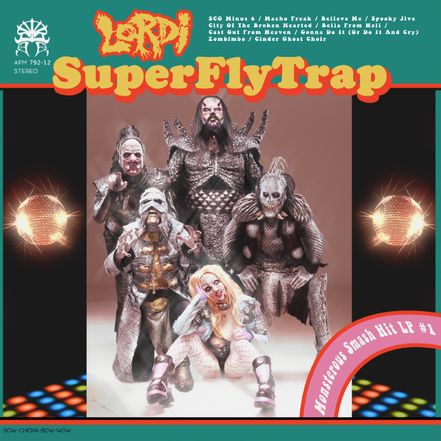 The album is from 1979 in the timeline and it is disco. You read it good, a full album of a heavy metal band doing disco.
I expected this album to be the one who would shock me the most, do me the most weird but in reality, no. It even enters my top 3 of favourite Lordiversity albums. The band arrives to keep the sound familiar, even there is one huge difference, the female vocals. That duo of voices sound really great. I'm not sure that I should like having it on every Lordi album and song. But once in a while, I definitely wouldn't say no. It kind of makes me nostalgic of that time where backing vocals could be stronger heard on albums than it is now.
The single of the album is "Believe Me". I will remember my reaction for a long time when seeing the video. I was literally without words. I even couldn't say if I liked it or not. When listening to the song without the video, I can clearly say that I like the song.
Outside the single there are 2 songs who stand out and those are "Bella From Hell" and "Cinder Ghost Choir".


"Bella From Hell"  is really the kind of song that if I had heard in other times, I would had thought "oh, Mr Lordi sings as guest", so much it is not what they usually do. The song really stayed good in my head.


"Cinder Ghost Choir" is a very interesting ballad. When I listen to it, I hear the power of a good ballad, what is in my opinion to make you feel things. One who can make you cry when you are sad, one who can help you to be lifted when you are down, one who can give you hope. I could totally imagine a piano and Mr Lordi singing next to it. It seriously confused me until I got to read the lyrics and saw that it still stays good old Lordi.


"Macho Freak" and "Cast Out From Heaven" are two songs that I didn't find exceptional at first but that I really get to appreciate more when hearing it more.


We can find  "Zombimbo" back from Killection.


The monsters gave us the Saturday Night Fever and they did it so well that the fever continues all week long.


Released on December 10th 2021 and contains the following songs :
SGC Minus 2 : Horricone
Devilium
Abracadaver
Rejected
Acid Bleeding Eyes
Raging At Tomorrow
Beast Of Both Worlds
I'm Sorry I'm Not Sorry
Bent Outta Shape
Evil
Vulture Of Fire
Beastwood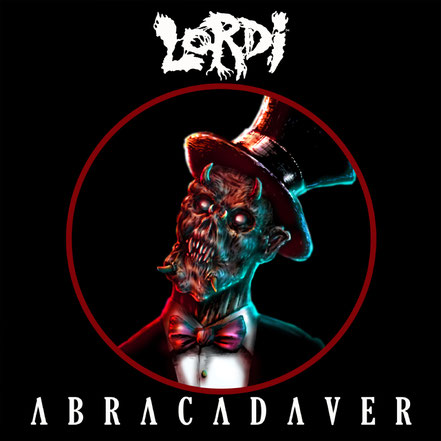 The album is from 1991 in the timeline and it is trash metal
The second single "Abracadaver", was released on 24 September 2021.
For a moment that album was my favourite one, it is still in the top 3. My favourite song of the album is "Devilium". A song that begins with drums always catches my ears but when the guitar starts after. Those vocals. Fuck that song is metal like I like it. It sounds like my favourite Judas Priest song...this is the painkiller.

A song like "Vulture Of Fire" asks to have a good audio system for really enjoying the punch of it. "Beast Of Both Worlds" is a song I would like to hear live someday.
We can find  "Evil" back from Killection. As I said about it, I loved the music but the vocals weren't my favourite. I wrote exactly the same thing now.

With a trash album you can expect inspirations like Pantera, Anthrax, Metallica or Slayer but not specially Motley Crue. Still the intro of "Bent Outta Shape" reminds me of them.

That album also contains a lot of guitar solos that I like, without counting the drums who are just as I love them.
Released on January 7th 2022 and contains the following songs :
SCG Minus 3: Scartic Circle Telethon
Bordeline
Victims Of The Romance
Heart Of A Lion
The Bullet Bite Back
Be My Maniac
Rucking Up The Party
Girl In A Suitcase
Supernatural
Like A Bee To The Honey
Humanimal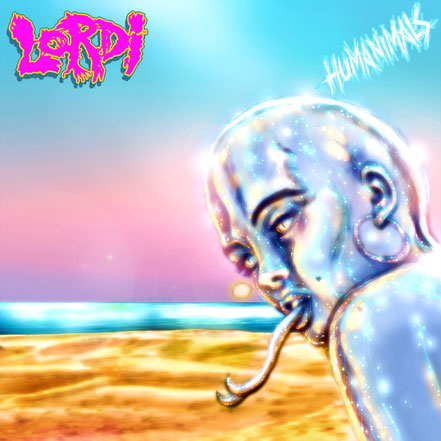 The album is from 1989 in the timeline and it is classic rock.
The third single "Borderline", was released on 22 October 2021. The clip from song is a great clip but it made me always have the feeling the song is from "Abusement Park". Really good choice as a single, it's catchy
If I must choose in the 7 albums which one sounds the most like classic Lordi, I would say this one. This album doesn't have any songs that I dislike, they all are good. Still it doesn't enter my top 3 and the reason is simply that if I like all the songs, there isn't any who gave me a WTF feeling. There aren't any that I can say "I really like that one". I wouldn't be able to name which one is my favourite song of the album. It's is purely out of my own criterias.
But it well doesn't mean that some songs didn't mark me.

 "Heart Of A Lion",I can't hear the song without remembering that the lion is the symbol of Finland. And then having the feeling the song talks of what it is to be Finnish (lion at heart).
 
"Be My Maniac",what is a pretty love song... Lordi style.
"Girl In A Suitcase", who shows the true power with Lordi. What is to make you sing the song along very normally like if carry every part of a girl in a suitcase is as normal that if it were clothes in your suitcase.
"Supernatural" whose lyrics touch me on a very personal level. Because I had times where those monsters indeed gave me supernatural healing. Because they still have a supernatural meaning for me. "It's you I will find. In the dark. When you turn out the lights"
We can find  "Like A Bee To The Honey" back from Killection.


Released on January 28th 2022 and contains the following songs :
SCG Minus 4: The Carnival Barker
Abusement Park
Grrr!
Ghost Train
Carousel
House Of Mirrors
Pinball Machine
Nasty, Wild & Naughty
Rollercoaster
Up To No Good
Merry Blah Blah Blah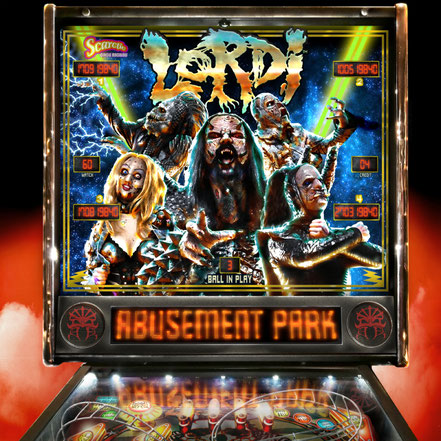 The album is from 1984 in the timeline and it is heavy metal.
I was very curious of the album because with such a title you expect to be put in an universe and not one I specially was waiting to find the band in.

The album good fits the theme at least with most songs but those who don't fit the theme are still good and it is not like you would think "what does this song do here". Everything can make me dance. Everything has parts I can sing along with. But if I have some I prefer, I still don't have any who really go out of the other and it's probably for that it is at the same level as Humanimals.

In the songs I may prefer it a bit more than the others on the album. You have the catchy "Abusement Park" or Ghost Train" but also "Pinball Machine". The intro is perfect, the guitars who follow the intro too and so are the variations in the vocals who are greatly done.  I can find so many good points on the song that people could think it is my favourite. Well no, but I have no clue why not.
On 24 November 2021, the fourth single "Merry Blah Blah Blah" was released
A Christmas song, that was unexpected and it really sounds like one. If your family doesn't understand English, you can seriously play it during festivities without a problem. If they do get the lyrics, they may see it doesn't talk of the Santa people all know. But if they comment, just answer that we all at least once in our lives have would, wanted, or want a Santa who would punish those who did us wrong.
We can find  "Up To No Good" back from Killection.


Released on February 11th 2022 and contains the following songs :
SCG Minus 1: The Ruiz Ranch Massagre
Demon Supreme
Re-Animate
Lizzard Of Oz
Killusion
Skull And Bones (The Danger Zone)
Goliath
Drekavac
Terror Extra-Terrestrial
Shake The Baby Silent
If It Ain't Broken (Must Break It)
Anticlimax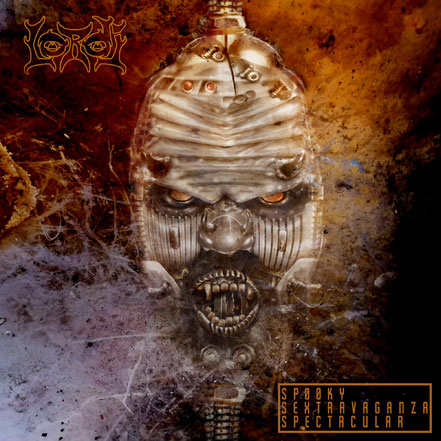 The album is from 1995 in the timeline and it is industrial metal. The album is machine-made.

This is definitely my favourite album of Lordiversity and I would even dare saying my favourite Lordi album ever.
When it is about electronic music, I love or it gives me a headache, I admit that I don't really have a middle between the 2 but here I definitely like it because it is damn good mixed. It is done with a machine but you don't hear it, you can imagine the band playing some parts of the songs. The effect added totally gives a Lordi ambiance with at the same time being a fresh changing. There is an ambiance in those songs, they make you feel something.

On the album my favourite song is "Drekavac". The 1st time I hear the manga intro, I was really there WTF, especially when you hear the following. My face was priceless, especially as it was the 1st song of the album I heard. I really like the effects on the song.
On 17 December 2021, the fifth single "Demon Supreme" was released.

That it is in my car or at home, I fucking love that song. I just need to avoid it at work because I have hard do not sing along or move.
We can find  "Shake The Baby Silent" back from Killection.
I really but really wasn't a fan of the Killection version, I was even thinking "damn and it is a single, so will automatically hear it on tour". Until now the only song I prefer not hearing on tour was Hard Rock Hallelujah because yeah I do an overdose of it. So let me say that my surprise was huge when I thought "that song sounds damn good" before realising which song it was because yeah I didn't directly recognize it. How to make from one of my least favourite, one of my favourites. It really shows how the same song can sound so differently with some changes, how our taste depends of little things sometimes. In that case I had the lyrics of one version too much in my head. In the other, the music around make the lyrics stay in my head but not as an obsession, not again, again and again.

I'm usually not that much into industrial metal, even I may enjoy listening to it once in a while so I totally didn't expect to like this album so much. From there, would I like the band to keep playing only that kind of music ? No, because they are not an industrial metal band. It is not what they may prefer too but I definitely would like it if in the future they get influenced by this metal for some songs or that they make the keyboard sounds to be more present. But yeah, if it was depending of me, the keyboards would always be more present on every song.


Released on February 15th 2022 and contains the following songs :
SCG Minus 7 : The Arrival
Day Off Of The Devil
Starsign Spitfire
Maximum-O-Lovin'
The King On The Head Staker's Mountain
Carnivore
Phantom Lady
The Tragedy Of Annie Mae
Blow My Fuse
...And Beyond The Isle Was Mary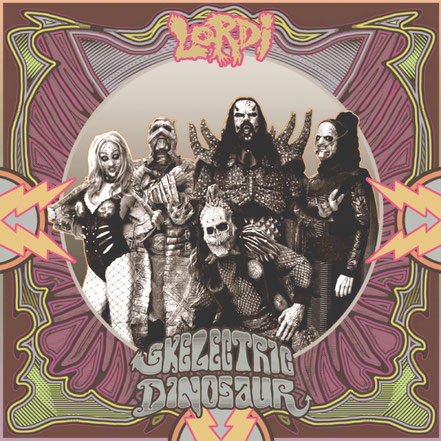 The album is from 1975 in the timeline and it is hard rock.
My least favourite album but in general the 70's aren't not my favourite era in music (an exception of some songs) and that with every band. At the opposite, this album is the favourite of my boyfriend who loves that period. What proves that they totally could get that 70's vibe. If you love what KISS did during that period, you definitely will appreciate this album.

I admit that when the albums are played in my car, most of the songs of that album are skipped. The one I don't skip and even may sing along once in a while are "Maximum-O-Lovin" and "Blow My Fuse" but for the last one it may be because I am more used on that song. "Carnivore" I don't sing along but that one I can also hear it and keep listening without skipping it.

There is well one song I love on the album....the instrumental outro "...And Beyond The Isle Was Mary"

In all honesty, if that would have been the only album the band would have done, I'm not sure I would have bought it, or then only for supporting them as a fan. But those who loved the first albums of KISS, and seeing their sales it is a lot of people, will like this album. For the the others, don't worry that there is enough choices on Lordiversity.
On 7 January 2022, the sixth single "Day Off of the Devil" was released.
We can find  "Blow My Fuse" back from Killection.


Released on February 18th 2022 and contains the following songs :
The Masterbeast From The Moon
SCG Minus 5: Transmission Request
Moonbeast: Celestial Serpents
Hurricane Of The Slain
Spear Of The Romans
Bells Of The Netherworld
Transmission Reply
Church Of Succubus
Soliloquy
Robots Alive!
Yoh-Haee-Von
Transmission On Repeat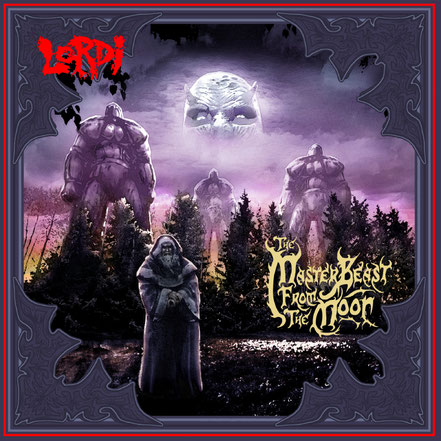 The album is from 1981 in the timeline and it is progressive rock. What is a genre I really don't know a lot about. I still give my opinion but I find it important to precise it.

This is a concept album. When you listen to it as a whole, you get the ambiance, you understand why those short songs between longer, for not say much longer. I had also listen to it song by song and I liked it a lot less. I also then couldn't get a song like "Transmission Reply" or "Soliloquy",even that last one so fits the Lordi style that when it appears on a mp3 between 2 songs, it will go with the flow.

My two favourite songs of the album are "Hurricane Of The Slain" and "Bells Of The Netherworld". I also like the instrumental "Yoh-Haee-Von". It just did me weird because without knowing why I could imagine music to be used in a fantasy movie with elves.

A song who also marked me is "Church Of Succubus" but more because it is an epic song who's 12 minutes long. In my opinion it is too long and would had be better if separated in different songs. There are changes in the song, different ambiance and on a technical level it is well done but there are some moments I find it would had sounded better if it was a song following with a little change in ambiance. That say rare are the epic songs I like too.
On 27 January 2022, the seventh single "Spear Of The Romans" was released.
Lordi did a big work with those 7 albums. I think that rare are those who will like them all, but rare will also be those who will not find their taste. Except of course if you don't like metal or that metal you like it death or dark. The biggest advise I will give is to go listen to them yourself because you can read as many reviews as you want, nothing beats to make your own opinion about it. It's now many months since the albums got released and my opinion changed a lot of times. And it still changes with time, but with this review I saw to talk about my feelings who stayed most fixed in time and it's also one of the reason why I have taken my time. I know that some of my favourites are for some other fans the less liked and it is totally ok. It is even powerful to so have diversify albums. Even after 15 years the band can still surprise me and I damn love it.
Facebook : https://www.facebook.com/LordiOfficial
Official website : http://www.lordi.fi/
(Review by Isa)
19/01/2020
Killection
AFM / BERTUS / SUBURBAN
Imagine a best of but not one of the songs you already know. "Imagine" it could had be a name that fits that album but they preferred to name it "Killection" and it comes out on January 31st 2020.
What if some of their favorite bands had made those songs, how would it have been..they have imagined it. Killection is a fictional compilation album. It contains songs that Lordi would have written from the 70's until 2019 and you clearly hear the inspiration of all their favorite bands.
The band has recorded the songs from different eras in different studios with a variety of instruments and using different recording processes as if they were actually aiming a record back in the days. Seven different studios throughout Finland were used.
I didn't expect anything of the album. I said to me that I probably would like some songs and dislike some others.
This time we didn't get one SCG, not even 2 but 4 who made us follow a radio show. When hearing it, my first my reaction was "wtf", what does it have to do with Lordi ? But it has to do with them, you just have to listen good to it. When you catch it, it is well still unexpected. Glad to see Anna isn't gone anymore, or is she? Imagination can also be used here.
We begin greatly with «Horror For Hire» what's one of mine, if not my favorite song of the album. It's powerful, it's fast and I damn so good imagine it as intro for a show. I imagine me easily have fun on that one. Also a mention to « I Dug A Hole In The Yard For You » who's catchy but not too much. It is what I would name a "typical" Lordi song or at least more close of what they did in the last albums. Another one of my favorite songs is «Up To No Good», the intro and the song remembers me Mötley Crüe. So don't search further why I like it.
In the songs I like less, you have «Evil ». I love the music of that song but the vocals don't make it. I know Mr Lordi's vocal capacity and in my opinion he shows them too less here. «Blow My Fuse», one of the songs I wouldn't have expected for the band, but pretty interesting. Still not a song I will remember the most of them, probably because it is too far of what they usually do. My least favorite song is «Shake The Baby Silent». Don't get me wrong, the music is top, the vocals of Mr Lordi are really nice but the lyrics. With only hearing it once, I already had the chorus in my head. Now I can't read the title without hearing "shake the baby, shake the baby, shake the baby silent" in my head. Catchy but too much.
I couldn't do without mentioning those 2 songs. « Like A Bee To The Honey » was probably the song I was the most curious of and for obvious reasons. Lordi playing a not Lordi song, what would it give. It gives something refreshing and they could appropriate them the song. For the anecdote, some years ago I was observing a scene where Amen was surrounded by fans, I told about it that it seemed "like bees to the honey". I will try to not imagine Amen as honey when hearing that song live. « Zombimbo », when the song started I got shocked, disco….It is disco. Really not what I would had expect to once hear coming from Lordi but fast it made me think of KISS. Knowing they are probably the biggest influence of the band, I shouldn't have to be surprised. In the end that song is for me like "I Was Made for Loving You" from KISS is. A song that I enjoy hearing, that makes me sing along but who still don't enter my favorites for some mysterious reasons.
As you can see my opinion is mixed, from very good to less good but it is no surprise knowing that this album contains a big variety of songs. Some will prefer the 70's and some the most modern songs. Reason is also that as a die hard fan, it is hard to not have some expectations, hard to take distance of what sounds familiar. It totally brings us out of our comfort zone. You like it or you don't but it definitly shows us another side of the band. With OX's departure and the entrance of Hiisi in the band, a new era begins and I have the feeling that the band will keep surprising us but one thing is sure...Monsters of rock, they are for real.
Tracklist :
Radio SCG10
Horror For Hire
Shake The Baby Silent
Like A Bee To The Honey
Appollyon
The Last Hour SCG10
Blow My Fuse
I Dug A Hole In The Yard For You
Zombimbo
Up To No Good
Demonic Semitones SCG10
Cutterfly
Evil
Scream Demon
I am Here SCG10
The vinyl contains the bonus song «Carnivore».
Facebook : https://www.facebook.com/LordiOfficial
Official website : http://www.lordi.fi/
(Review by Isa)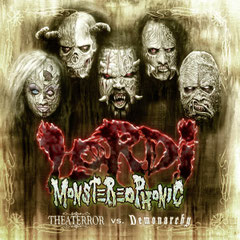 19/08/2016
Monstereophonic (Theaterror vs. Demonarchy)
AFM / BERTUS / SUBURBAN
Monstereophonic (Theaterror VS Demonarchy) is the 8th album of Lordi and will get released via AFM Records on the 16th of September. FI Musica got the occasion to hear it and make you discover it.
The album begins with a message on an answering machine. It makes me somewhere think on the movie "Scream" and makes me like for not having blue eyes. Seeing the atmosphere of the intro, I expected all except it to be followed by…..keyboards.
The "too long title" song ("Let's Go Slaughter He-Man (I Wanna Be the Beast-Man in the Masters of the Universe)") ,that most simply call "He-Man", indeed begins with a lovely keyboard sound. That song has a good energy what makes it a good choice for beginning a show, specially with its catchy chorus, where people will like singing along.
After this, we arrive on "Hug Your Hardcore", the first single of the album. My first reaction was clearly a WTF face. It's maybe a typical Lordi song but trust me when I say that it will surprise a lot of people with its riffs that you definitely can't forget and that no matter if you hate it or love it. It will certainly be great live but it's the kind of song where you will maybe also fast wish you never heard that damn riff, that stays in your mind.
The next song "Down with the Devil" is totally different and it first made me confused when I begin to think on mermaids. But the melody of that song and the female backing vocals gives very well and brings a fresh changing but don't worry, the song isn't about mermaids at all.
Every Lordi album has at least one song that you can call a ballad and here this song is "Mary Is Dead". Slow vocals and a duo piano-guitar, who good complete each other.
It's followed by a song who would give well live. "Sick Flick" has a tune that you will remember and lyrics who will make you sing along. A mention for the bass who good brings depth on the song for the solo, who's really great (take note I didn't say guitar solo ;) ) and for the variation in the song as much in musical than in vocal.
First part of the album closes with "None For One" what's a good song with a pretty nice chorus but on every album, there are songs we will more remember. This one isn't one of them.
Knowing the second part of the album would begin, I somewhere began to be kind of nervous as I know it would be different than what I am used with them. I expected to be surprised but certainly not as much than that.
It all begins with an opening scene who make me think on fairies. I was imagining me entering in a world who seems a fairytale but how more you walk in it, how more you discover it isn't as beautiful than expected. Really beautiful, I was relaxed, somewhere reassured by that intro that still seemed familiar but it made I wasn't ready for….
Fucking fast playing guitar…whattt ? Are you sure I good listen to Lordi ? Wowww it's great, hell yeah it is good metal. The tempo of song stays almost the same all song long but the song itself seems to go from fast to more calm again to faster again for waiting that I calm myself, for in the end continuing. Impressive but I also fast understood that it is close to impossible to play it live. Not only because it asks 2 guitars but also because I don't want to imagine how hard it can be to play such a guitar part and that in a very hot sauna and after keep playing other songs or after having to play a show with a lot of songs. For the sanity of their guitarist, I think it's better to maybe play a part in a medley but certainly not the full song
Next song indeed seems to be a following on Demonarchy but "The Unholy Gathering" is more slow in general. It's more a song that you will hear in your mind, even a while after hearing it. The vocals reminded me on Bend Over And Pray The Lord at a moment, what's the very very first Lordi album.
I think on the same album when listening to "Heaven Sent Hell on Earth" and that in the way Mr Lordi sings. From that song I like the little bass solo but it took me a certain time before really entering in it.
After comes the energic "And the Zombie Says". From this song you will good remember the keyboards but I found that how the other instruments complete each other is just top. The musical structure is also a very unusual one for Lordi. That song is my top 3 equality with...
"Break of Dawn". That song gives a good place on the rhythm section with a preference for the drums. When you think that you guessed how the music will follow, you get a changing which made that even after listening a lot of times to it, you will still be surprised .
And here comes the last song already, "The Night the Monsters Died" with its intergalactic Sci-Fi intro (like I call it) followed by a more classic piano sound. All song long you will go from one music style to another before going back to the first style and that all in a complex musical structure. It's a great closing song what somewhere makes me think on an end but what will lead to a new departure
From all the Lordi albums, this one is my favorite. The general atmosphere makes that you can good imagine and there isn't any song that I dislike. I wouldn't say that it is a "half conceptual album" but more an album "2 in 1". Two versions of a same band in one album and I like as much the Theaterror side, which is a typical Lordi one than the Demonarchy one. Definitly not what they habit us with a preference for the first and last songs. I don't remember never hearing the keyboards on a Lordi album as good that I could hear it here and it's really something I like.
If I must choose a bad point, I would say that it is the fact band made us used to play each song of their albums live and here it would be the case only for the first side, as the second would need to have 2 guitarists. Mr Lordi can play guitar but I really don't see him do it at the same time that he sings and that with such fingers and specially that kind of technical guitar sound. An option can be to do a medley with only play the part of songs that can be played with just Amen. Otherwise, make from him a spider mummy and so give him 4 arms. That could also be a solution.
Don't forget the date...16/09 for go discovering it yourself and I hope you will love it as much as I do
Facebook : https://www.facebook.com/LordiOfficial
Official website : http://www.lordi.fi/
(Review by Isa)
 30/03/2015
Lordi is a heavy, hard and shock rock band. Currently composed by Mr Lordi (Vocals), Amen (Guitar), OX (Bass), Mana (Drums) and Hella (Keyboard).
Lordi, it's 7 albums (8 if you count Bend Over and Pray the Lord release in Scarchives), 2 dvd's, 5 covers, 2 best-of's, 13 clips, 1 short film (The Kin), 1 film (Dark Floors), 6 comics, 2 books and one documentary (Monstermies), without forgetting a victory at the Eurovision Song Contest in 2006.
Founded in 1992, they have evolved in their line-up like every band (the singer and guitarist are the same since the beginning. It's not the case for the bassist (G-Stealer, Magnum, Kalma and OX), the keyboardist (Enary, Awa and Hella) or the drummer (Kita, Otus, The Drummer and Mana)) but also in the music. During all those years they well kept those monster characters who definitly made their actual image. They are also known for doing the show but today we will more focus on their music or better said, on their albums with introducing you each of them. May it give you desire to go discover them.

Get Heavy (2002)
After 10 years of trying again and again, the band finally got that so long waited album and with it, monster metal is born ! It is definitly one of their classic albums with some of Lordi's all-time hit songs like "Devil Is a Loser" and "Would You Love a Monsterman". In this one, you can feel the band is experimenting with their style and compositions. It was just like the band was finding their feet, their music was settling into its own sound too. It is Kalma who appears on the cover from the album but it's still Magnum who played bass on it.
The Monsterican Dream (2004)

The follower of Get Heavy also follows its path but with a horror side much more worked upon and an atmosphere who's darker, weighty, creepier and even sad for some songs as much in the music then in the lyrics. It's clearly a continuation and somewhere the album who puts the basis of what will become the band's music style. The album included one of the Lordi classics, "Blood Red Sandman". For the anecdote, it also contains the song "Forsaken Fashion Dolls" and that 8 years before Hella (also named "Forsaken Doll") joins the band. This album is the last one with the former keyboardist, Enary.
The Arockalypse (2006)
The most known album of the band, as it got released the year of their victory at the ESC. This very hard rock album is for most people the one who introduced them to the band's music. It really is the "classic" Lordi album, including the "classic" song that Hard Rock Hallelujah is. You can also find many guest stars like Dee Snider, Udo Dirkschneider, Bruce Kullick or Jay Jay French. On the cover you can see the line-up who played at the Eurovision, in reality this album got recorded by Kalma and not OX.
Deadache (2008)
Most people were curious about what the band may do after such a successful album as The Arockalypse. It gives an even more dark side of Lordi, which is brought to us with this album but differently from the dark atmosphere in The Monsterican Dream: Deadache. Deadache carries dark music filled with dark emotions and also a dark sense of humour. This darkness makes the songs catchy in a very special way as despite its dark lyrics, Deadache retains poppy melodies. The start of a more horror-inspired album, it's maybe the less successful album of the band when at the same time being one of the favorites of a good part of the fans. Also the first album of actual bassist OX.
Babez For Breakfast (2010)
That album has an 80's side like if a hair metal band was sent to hell and they came back as monsters. Exit the darkness, welcome the craziness with an album who changes us of what the band made us used to, with a sound that makes you want to dance and headbang at the same time! It's the first album produced by Michael Wagener. Some love the production, others like it less,finding that the guitar sound in most songs is way too soft. That album got recorded by Kita but he never played any songs of it live. Some weeks before the tour, Otus entered in the band and he's the one who played all the songs live until February 2012, when he passed away. The last show of that era was also the last show of Awa
To Beast Or Not To Beast (2013)
This is the album of the change, mainly in the way of composing. Influenced by Otus and his way to play, this album is heavy, loud, filled with strong emotions. At the time of its release, the most metal Lordi had sounded with their fastest and most aggressive songs yet. The band is experiencing new ways to make their music, new sounds, new arrangements. To Beast or Not to Beast shows perfectly the mean, bloody side of the monsters. That album is closed by a solo of Otus and it's also dedicated to him. It is also the first one with Mana and Hella.
Scare Force One (2014)
Lordi is united as a band and they show that to us with an album who combines the sound of The Arockalypse, the horror of Deadache, the melodies of Babez For Breakfast and the more metal approach of To Beast Or Not To Beast, resulting in an album that we may characterise as either a more tongue-in-cheek Deadache or a darker Babez For Breakfast. You would have understood that it's really a sort of mix from all the previous albums and you can go from a very heavy song to a more dark one, to a pure melodic one (with the two solos for example). It got the distinct Lordi sound with the fun side the band always had and has new angles as the band grows and matures. They try some new musical structures and the two new members participated on it since the beginning of it. All that makes from SFO one of Lordi's strongest albums to date. Fasten your seatbelts folks!
(Review done by FI musica staff)
---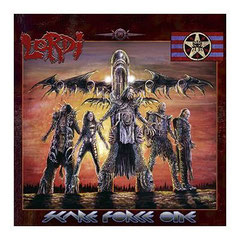 07/02/2015
LORDI - Scare Force One
AFM / BERTUS / ROCK INC.
New costumes but same line-up with the addition of Mana (drums) and Hella (Keyboard) getting much more involved in the album's creation. SCARE FORCE ONE, the 7th album of Lordi gets released on 31th october. What better day than Halloween when we are monsters ?  This is my opinion of the songs which make up the album...
"SCG7: Arm Your Doors and Cross Check" : A very unexpected intro. Once you hear the album you will understand, but the very first time you really think « what the hell ??? » first very slow so you think « Am I in a church ? » at the end you hear the drums of Mana and I then totally imagine that moment at a gig with all the fans shrieking nervously knowing the show will soon begin...drums continue and...
"Scare Force One" : Scare Force One begins, the transition is perfect. The band has a habit of using a much more punchy and fast song as their opening track but this is definitly one of the songs they must put on the setlist. I imagine the crowd shout SCARE FORCE ONE with the same enthusiasm they would shout nonstop nite ! (Babez For Breakfast). Take note that the song isn't that slow, just slower than the usual opening song. I also advise you to go take a look at the clip from that song.
"How to Slice a Whore" : It's one of the songs where I found the music not exceptional. I wouldn't say it's bad, just that it doesn't have that wow factor (well mention on the guitar solo). At the opposite the lyrics are priceless! Love them, so Lordi. Like they say at the WWE "don't try this at home" ;)
"Hell Sent in the Clowns" : You are directly in the ambiance of a circus. There you get the opposite of the previous song, I found the music pretty nice. Effects are there but not too much, just a touch which makes all the difference, but even here I found the song very well sung, but there was something  in the lyrics which makes me not sing along. Still, that impression did vanish after a time and the song grew on me, like it just needed more time than the rest to be really appreciated on a level it deserves. 
"House of Ghosts" : The intro of song is perfect, just perfect and the mix of keyboard-drums is a pleasure for me to hear all song long. The only thing is that there is just some moments of the song where I have the impression that Mr Lordi could sing it better, he has the capacity to give you the impression of being in that house where you would hear those Ghosts whisper but here he sadly didn't do it enough. That song is in my top 3 and would be one of those I would love to try covering.
"Monster Is My Name" : « We return to the electronic dinosaur of get heavy ! » that was my first thought but like for Get Heavy I ask myself what does have an electronic dinosaur have to do with the song. « You know what, I think you love me » don't think, be sure 'cos we love you monsters. Mention on drums in that song. 
"Cadaver Lover" : Here comes one of my two least favorite songs. I can't really explain why but maybe because at the beginning of the song I think « yeahhh, music is great » but just the first minutes of song, all the rest of it is, in my eyes, not exceptional. The lyrics never seem to really catch me
"Amen's Lament to Ra II" : We had discover "Amen's Lament to Ra I" in the album Babez for Breakfast. I didn't like that solo and even felt it was something that could be played by a beginner. Let me say that I was pretty sceptical for the II but was already a bit reassured when see that the actual one is longer than 30sec. When I heard it I was fully reassured. I like it and I could imagine a lake and a fire, sitting there enjoying the warmth and around us just Amen playing his solo. Some of you maybe know Seurasaari Island, when I hear that song I remember the feeling I had when being there, feeling close to nature and in peace with myself
"Nailed by the Hammer of Frankenstein" : When I discovered the single I at first liked it but I still had in my head that there would certainly be another song of the album that I would prefer. When discovering the album and hearing the song I realise that it was the first of album where, at the first listening, I like music AND vocal AND the speed. I am then glad to be sure it will be played during the tour and think it will become my favorite song until...
"The United Rocking Dead" : This is my favorite song of the album. More than once I have tried to compose music without arriving exactly on the sound I really would like and when I hear that song it's exactly what I would get. The kind of sound that I hope someday I can do with my band and that includes the effect on the voice. Some may find it too slow, too simple but me it's exactly what I like, it's a kind of' back to basic', simple but effective. The guitars in this song are just a pleasure for my ears.
"She's a Demon" : Right after the one I prefer comes...the one I prefer less. The keyboard piano is good, the drums are pretty nice too, same goes for other instruments but still, once Mr Lordi begins to sing I can't say it's bad or I really dislike it but I am feeling nothing from this and even instruments that I found good at first just don't make me react anymore. Maybe is it definitely too slow for me, ...or dare I say, boring
"Hella's Kitchen" : The schizo doll is back. When hearing this solo I imagine a movie with someone sad and alone looking from afar at the child who is playing....without her
"Sir, Mr. Presideath, Sir" : The vocals could be a bit faster but then we might have been lost in the understanding of the lyrics. The chorus is good and when Mr Lordi accelerated the speed I noticed it doesn't miss a lot for that song to enter into my top 3. The song is closed by ETA which is, in reality, a vocal and it's there that I fully understand the intro, like the circle is complete
The album is cool and good but at the opposite of most fans I personally still prefer Babez for Breakfast. I recognize that Scare Force One has the advantage of not being too far off To Beast Or Not To Beast, while at the same time being more like what Lordi had always been. At any moment I thought that I would regret that it's not more heavy but I sometimes regret the impression that the songs are slow, that a faster tempo would have been better but at the same time I never would have thought that a song was too long when they were more long than what the band usually do.
Scare Force One is definitely worth a listen. If for you Lordi are still "the Eurovision monsters" then I reccommend it even more as the band definitely evolve. That evolution may even be the object of a future new review.
The monsters are back and they are waiting you at one of their show ! Check out their website of Facebook for see the tour dates (01/02 – 06/04/2015)
Facebook : https://www.facebook.com/LordiOfficial
Official website : http://www.lordi.fi/

(Review by Isa - Spellcheck by Kath)